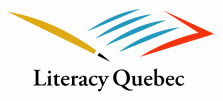 Literacy Podcast:
Episode 56 of the Literacy Quebec podcast is now available!

This podcast is for English-speaking, lifelong literacy learners in Quebec. It will feature interesting topics as well as upcoming GLC activities and activities from literacy councils across the province. Hear something you think would work well in our community? Let us know and we'll pass the idea along!
Episode Description
Welcome to Season 9 Episode 4 of What's Literacy Got To Do With It? by Literacy Quebec!
In today's episode, Jaimie catches up with Trevor Donovan, Chief Growth Officer, National Team from PennyDrops, a student-run organization to talk about their mission of helping Canadian youth make informed decisions with their finances; "PennyDrops is paving the way to financial freedom for students coast to coast". In a time when the cost of living is only going up, what's better than to learn financial decision-making tips and learn about what is financial health!
Next, we travel out to the Magdalen Islands and are joined by Helena Burke the Executive Director for CAMI (Council for Anglophone Magdalen Islanders) to learn about unique literacy issues Islanders face and the work CAMI does on a day to day basis in the community to support people young and old with their literacy needs. It's organizations like CAMI that people rely on to live a fully engaged life!
Past episodes are available through the Literacy Quebec website.